Residential Phoenix locksmith services: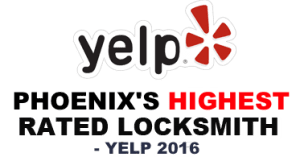 The Premier Residential Locksmith Phoenix Arizona Company
At Johnny Locksmith, we offer dependable and honest residential locksmith services in Phoenix and the surrounding area. Our professional locksmiths have years of experience in their trade and we always supply our customers with the best quality locks and other security products. No matter why you need the services of a locksmith, we're always there to help.
If you've acquired a new property and would like to get the locks re-keyed, we can do the job quickly so that you can be sure that you're the only one with the keys to your property. If the locks on your home are old and you would like them changed, we have a full lineup of modern high security locks to meet your needs. Our locksmiths will be happy to take care of the installation for you, ensuring that your new locks are correctly put in place for maximum security.
Sometimes, locks can experience various problems, such as becoming difficult to open or close. If that's your case, get in touch with us right away. Johnny Locksmith will send an experienced residential locksmith to your home to inspect the defective lock and make any needed repairs. Should the lock be broken or damaged beyond repair, our locksmith can install a replacement lock on the spot. We can also work on other locks besides the ones on your outside doors. Our locksmiths can service inside door locks, mailbox locks, garage door locks and many others.
We believe that our customers need to feel safe and comfortable in their homes. Know that our Phoenix locksmith company is licensed and insured and provides honest and fair prices.